INVENTORY MANAGEMENT PROGRAMS
---
In addition to Kitting Solutions, Aero-Glen is a leading provider of other value-added support services. We take pride in customizing our inventory and supply chain management offerings tailored to the specific requirements and program objectives of our valued customers. Aero-Glen's inventory and supply chain management solutions vary depending on customer objectives. Our programs are designed to greatly reduce supply chain costs associated with process waste by eliminating duplicate processes and product ownership.

Supply Chain Solutions Include:
Just-in-time inventory (JIT) and point-of-use delivery
VMI, Bin Stocking, JIT, Kanban, 2-Bin, etc.
On-site stores location (Aero-Glen employees)
Consignment inventory
Supplier management
Complete 3PL / 4PL solutions
Our Programs increase and streamline:
Line fill: stock on hand when you need it
Warehousing productivity / operational excellence
Cash flow via optimized inventory profiles
Margin improvement (via administrative cost reduction)
Visibility via web portal integration for live supply chain access
Reduce and eliminate:
Product handling costs associated with inventory carrying costs
Inbound inspections
Procurement & Expedite costs
Invoice processing costs
Excess inventory
THE BIN REPLENISHMENT CYCLE
---
With an automated inventory replenishment, the goal is to make the process seamless for the customer. From identifying when parts get low, to generating a signal to refill inventory, and getting product back in the bin without delay, our robust process works as follows: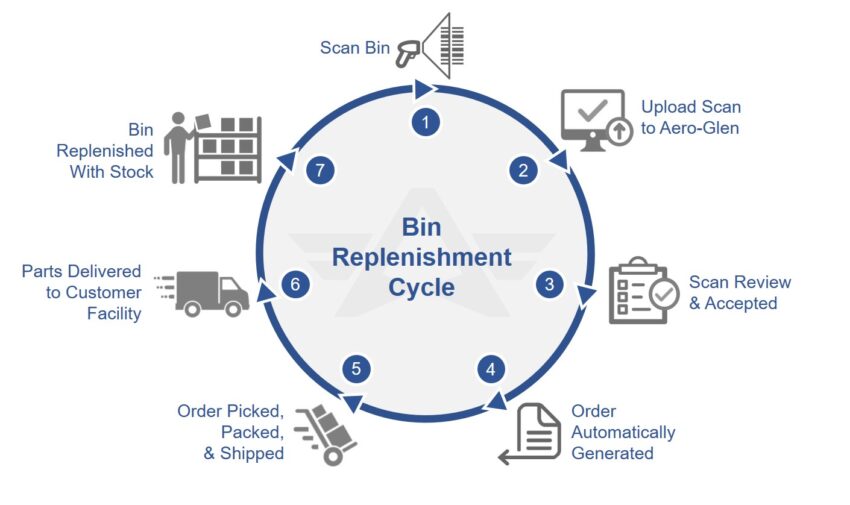 TAILOR MADE SOLUTIONS ADAPTEDTO UNIQUE & SPECIFIC CUSTOMER REQUIREMENTS
---
Aero-Glen's inventory management solutions are tailor made, adapted, and customized to fit your unique and specific customer requirements. We focus on four main areas to ensure a successful supply chain: Procurement, Logistics, Technology and Process: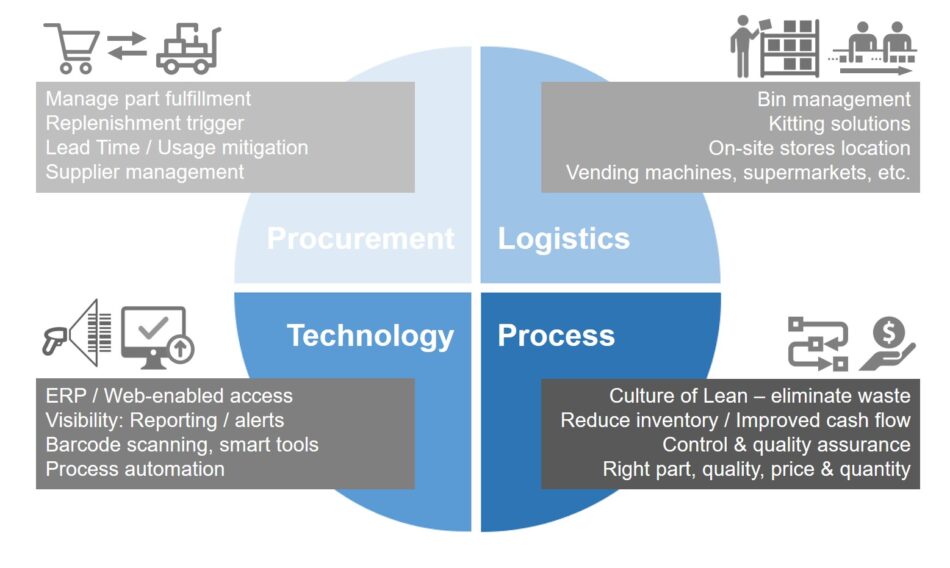 WHAT SHOULD YOU EXPECT FROM OUR PROGRAMS
---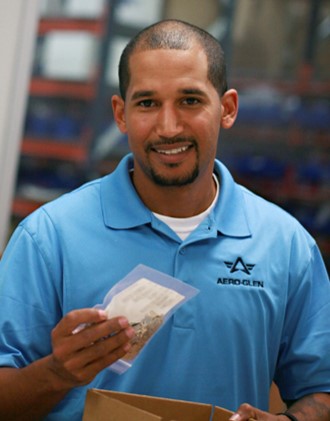 Visibility:
Clear view of supply chain health & KPIs with a focus on items that need attention
Control over all aspects of production, knowing your partner has your back
Communication:
Know what is being done on critical parts, identifying solutions, and a clear path towards success
Proactive communication, leveraging all resources to solve problems and deliver results
Scope:
Hardware PLUS build to print and other commodities – helping to solve all your supply chain needs
Getting right parts into the hands of production. . . right time, right quality & price, every time
WHAT TYPE OF PROGRAM IS BEST FOR YOU?
---
Picking the right solution is key to your success. Adapting the right blend of inventory systems depends upon the type of customer demand. For example, in a repetitive environment that has a consistent monthly build rate, established production line and little change in Bill of Material, a Just in Time (JIT), Kanban, or Reusable Packaging Kitting solution can be outstanding tools to empower and streamline your business. However, if your demand mirrors a Job Shop scenario that is batch driven with requirements as needed, with frequent Bill of Material changes and general variability, better solutions could include One Time Use Packaging. Reach out to one of our Aero-Glen consultants who will spend the time to find the best solution for you, reviewing your needs, value stream mapping your process, putting together a coordinated implementation plan, and executing the project driving the desired results.